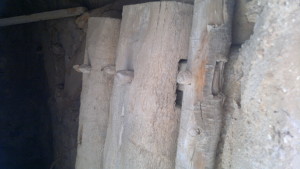 Dictionaries.
Dictionaries here are either of our own work or collection of dictionaries who have been authored, collected    or published by others.
A. Traditional dictionaries
1. Egypt
– Siwa  
2. Libya
General. M Madi. (http://www.tawalt.com/amawal/)
 Nafusa Mountains
A De Calassanti-Motylinski. Le Djebel Nefousa. Transcription. Traduction Francaise et Notes. Avec Une Etude Grammaticale. Ernest Leroux, Editeur. Publication de L'Ecole des Letter D'Alger. Bulletin de Correspondence Africane. Paris, 1898. Read (…).
Nalut-Kabaw
Jadu-Amsin
Yefren-Gala'a
 Zuwara

Vocabulary collection, 2006 (www.zuwara.com), 2008. Read (…).

Ghdames
Sokna
Awjla
5. Tuareg
3. Tunisia
Djerba

Ben Daâmar, Fadia. Dialecte berbère de Guellala (Jerba-Tunisie) Lexique thématique Tamazight – français (avec transcription arabe). 2010-2011. Read (…).

Duirat

Gabsi, M. An outline of the Shilha (Berber) vernacular of Douiret (Southern Tunisia) . PhD Thesis. University of Western Sydney,  Australia. Read (…).
3. Es-Sened
Provotelle de Gafsa. Etude sur la Tamazir't Zenatia de Qalaat Es-Sened (Tunisie). Ernest Leroux, Editeur. Paris, 1911. Read (…).
4. Algeria
General

Tamawalt tmazight tatrart n Tiddukla Imedyazen (http://imedyazen1.tripod.com/id39.html). Read (…).

Kabyle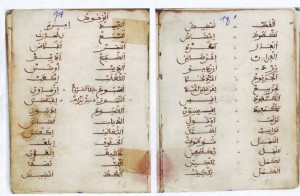 al-Shâykh al-Haddâd: glossaire arabe algérien-Kabyle (1571).
Attayab, Si Haj Mohannad et al. Professional Dictionary. Language Practice Laboratory, Faculty of Literature and Languages, Mawlud Mammari University, Tizi Ouzo, Algeria 2014. Read (…).
Shawi
Mzab
Tuareg
5. Morocco  
1. General
2. Riif
3. Atlas
4. Suus
5. Mauritania
6. Spain
Mellila
Canary islands
7. Borkina Faso
8. Mali
9. Niger
10. Sudan
B. Modern dictionaries